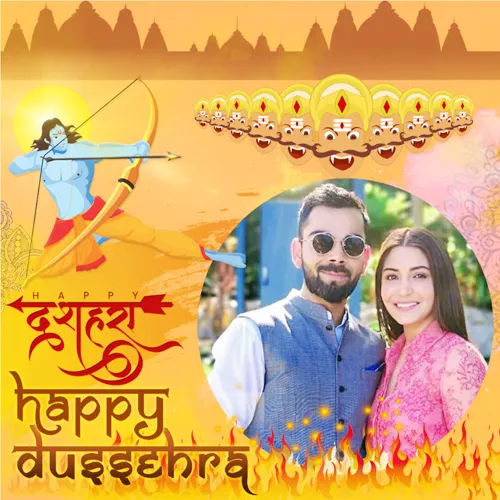 Vijayadashami and Dussehra, two names for a festival that holds deep cultural and spiritual significance, resonate with tales of triumphs and traditions across India. As the ten-day saga of valor and victory culminates, families and friends come together, capturing moments that epitomize the festival's essence. This year, give those memories a touch of personalization and grandeur with our Vijayadashami and Dussehra wishes Picture Frame With My Photo feature.
In a world where every moment is snap-worthy, it's the backdrop that adds context and emotion to a picture. Our collection of frames is curated to mirror the vibrant spectacles of Vijayadashami and Dussehra – from the rhythmic beats of dhols, electrifying processions, to the ethereal glow of lit lamps.
What makes our offering even more unique is the ability to customize. The Insert your photo into Vijayadashami and dussehra wishes picture frame tool ensures that your cherished photographs find their perfect festive setting, making them standout keepsakes.
Read More : Dussehra And Vijayadashami 2023 Wishes Card With Photo Frame Edit
Using our platform is refreshingly simple. Choose a frame that resonates with your festive spirit, upload your photo, and watch the magic unfold as your moments get enshrined in tradition and festivities. The end result? A personalized memento that not only reflects the joy of Vijayadashami and Dussehra but also a piece of your heart.
Celebrate the triumphs of this season by framing your moments in designs that are as timeless as the tales of Vijayadashami and Dussehra themselves.
Related Dussehra Photo Frame