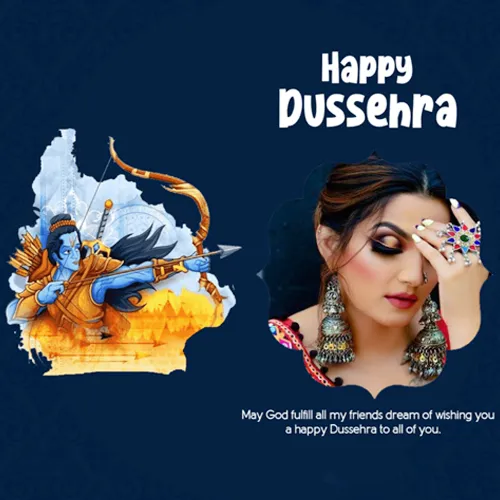 Dussehra, a festival that celebrates the victory of good over evil, is a time filled with joy, rituals, and vibrant colors. As the celebrations for 2023 approach, you might be looking for a unique way to extend your festive wishes to friends and family. Our custom dussehra wishing photo frame editor online 2023 free download is the perfect solution to add a personalized touch to your festive greetings.
At the heart of our platform lies a range of beautifully designed frames capturing the essence of Dussehra, from the iconic burning of Ravana effigies to the resonating beats of dhols. But what sets our custom happy dussehra vijayadashami wishes images and photo frames editor online free download apart is its adaptability. You're not just selecting a generic frame; you have the power to customize and craft it to resonate with your personal style and message.
Read More : Dussehra Vijayadashami Photo Frame Design Online Download
Using our online editor is a breeze. With intuitive tools and a user-friendly interface, you can effortlessly integrate your photos, overlay them with festive designs, and add heartfelt wishes. The beauty is in the details, and our editor ensures you have the freedom to get every detail right. Once you're satisfied with your masterpiece, the custom dussehra wishing photo frame editor online 2023 free download option lets you instantly save your creation, ready to be shared with loved ones.
So, as Dussehra 2023 draws near, embrace the festive spirit and craft wishes that will be remembered for years to come with our customizable photo frames.
Related Dussehra Photo Frame