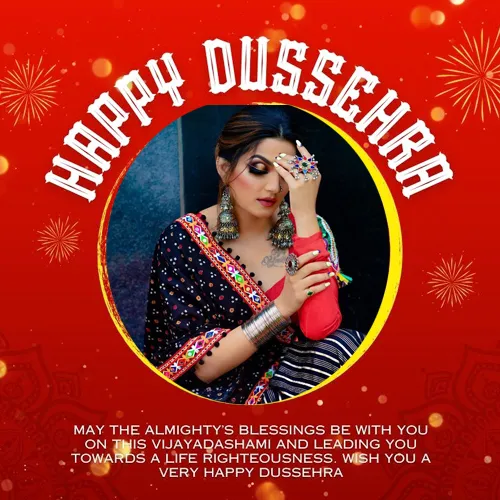 Dussehra, also revered as Vijayadashami, is a festival that marks the triumph of good over evil, resonating with profound cultural and spiritual significance. In this era of digital memories, what better way to immortalize this occasion than with a perfectly themed photo frame? Introducing our dussehra vijayadashami photo frame design online free download feature, a blend of tradition and technology, curated especially for this auspicious day.
Our platform is not just another generic photo frame provider. We deeply understand the sanctity and grandeur of Dussehra and Vijayadashami. Whether it's the dramatic play of Ramleela, the symbolic burning of Ravana, or the graceful dances and rituals of southern Vijayadashami, our frames encapsulate every aspect of this diverse festival.
Read More : Create Your Own Dussehra 2023 Photo Download Online
Through the Happy dussehra vijayadashami wishes photo frame photo download option, we offer designs that perfectly meld with the colors, emotions, and ethos of this day. Ease of use is paramount in our design ethos. With an intuitive interface, you can effortlessly navigate, preview, and select a frame that resonates with your captured memory. Once selected, a few simple clicks will have your chosen design ready for download and use.
So, as the drums roll and the festivities reach their zenith, ensure that your cherished moments are framed in designs as grand as the festival itself. Choose our dussehra vijayadashami photo frame design online download feature and let every moment shine with cultural pride.
Related Dussehra Photo Frame