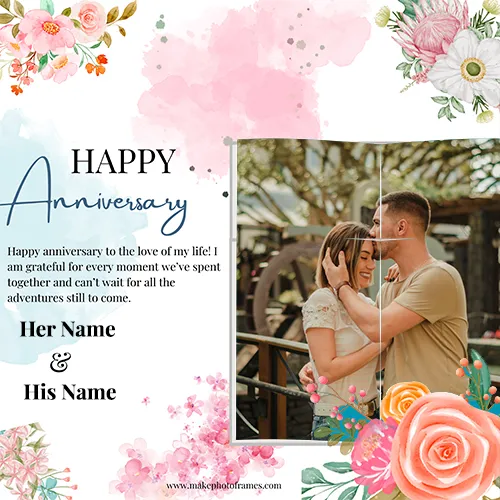 Celebrating love and togetherness becomes even more special when you can personalize your wishes. With the happy wedding anniversary card with name and photo, you can create something unique, something that resonates with the very essence of the journey two people have shared together.

Every love story is unique, and the milestones it achieves deserve to be celebrated in a way that's just as exceptional. Makephotoframes brings to you an innovative way to weave your memories into a card. Our platform provides a seamless experience, allowing couples to infuse their favorite moments and names into a beautifully crafted design.

Using the happy wedding anniversary card with name and photo editing feature, you can transport yourself and your partner back to those cherished moments that define your journey together. In an era where personal touch matters more than ever, why settle for the ordinary?

Move beyond the conventional cards and add a flair of personalization that speaks directly to the heart. With our happy wedding anniversary wishes card with name and photo, every intricate detail, from the selected photograph to the intricately inscribed name, tells a story—a story of love, commitment, and the beautiful journey you've embarked upon together.

Choose Makephotoframes to bring your most cherished moments to life. Celebrate every year, every milestone, and every memory with a card that's as special as the day it commemorates.
Related Anniversary Photo Frames