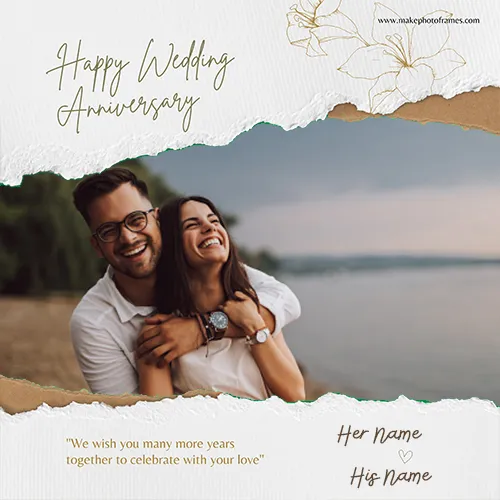 Celebrate the special milestone of your anniversary in a truly memorable way with our Design and personalize anniversary cards with name and photo. With the ability to add both names and photos, you can create a personalized card that captures the essence of your unique love story.

Our user-friendly interface makes it easy to design a stunning anniversary card. Simply upload your favorite photo, choose from a selection of beautifully designed templates, and customize it with your names and a heartfelt message. Whether it's your first anniversary or a significant milestone, our card maker allows you to create a keepsake that reflects your journey together.

The option to add names and photos adds a personal touch that will touch the heart of your partner. The card becomes a beautiful representation of your shared memories, love, and commitment. Imagine the joy on your loved one's face when they receive a card that truly speaks to your bond.

Once you've finished designing your anniversary card, you can either download it as a digital file to share online or print it out and present it in person. Whichever option you choose, our online anniversary card maker ensures that you have a high-quality and personalized creation to mark this special occasion.

Celebrate your love and create a lasting memory with our Design and personalize anniversary cards with name and photo. It's a meaningful and heartfelt way to express your love and appreciation for your partner on this significant day. Start designing your personalized anniversary card today and let the magic of your love shine through!
Related Anniversary Photo Frames