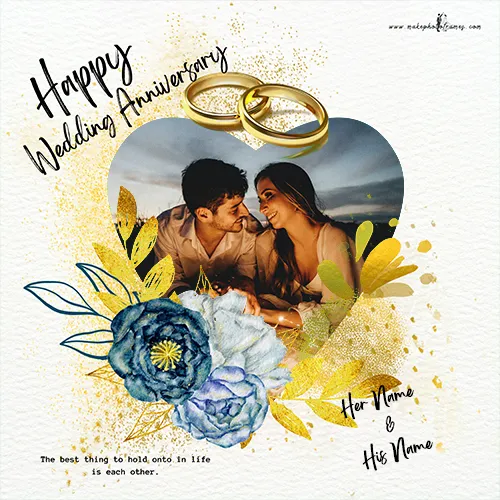 Creating a personalized memento for a special day has never been this easy. With the wedding anniversary photo card maker with name, every couple can capture their timeless moments in a uniquely crafted design.

Anniversaries are milestones that celebrate the journey, the ups and downs, and the countless memories created over the years. And what better way to commemorate them than with a bespoke card that's as unique as the love story it represents? Makephotoframes is at the forefront of making these special moments even more memorable.

Our platform offers a seamless experience for everyone wanting to integrate their cherished photos and names into a beautiful card. With just a few clicks, you can use our wedding anniversary photo card maker with name to craft a keepsake that speaks volumes about your journey together. In a world filled with generic cards and wishes, stand out with a personalized touch.

Allow your love story to shine through every detail of the card, reminding both of you of the bond you share. Whether it's your silver jubilee or the first of many anniversaries to come, use the wedding anniversary photo card maker with name to ensure that your sentiments are captured in a way that's as unique and beautiful as the love you both share.

Trust in Makephotoframes to bring your feelings to life, and let every anniversary be a reflection of the timeless love you both cherish.
Related Anniversary Photo Frames