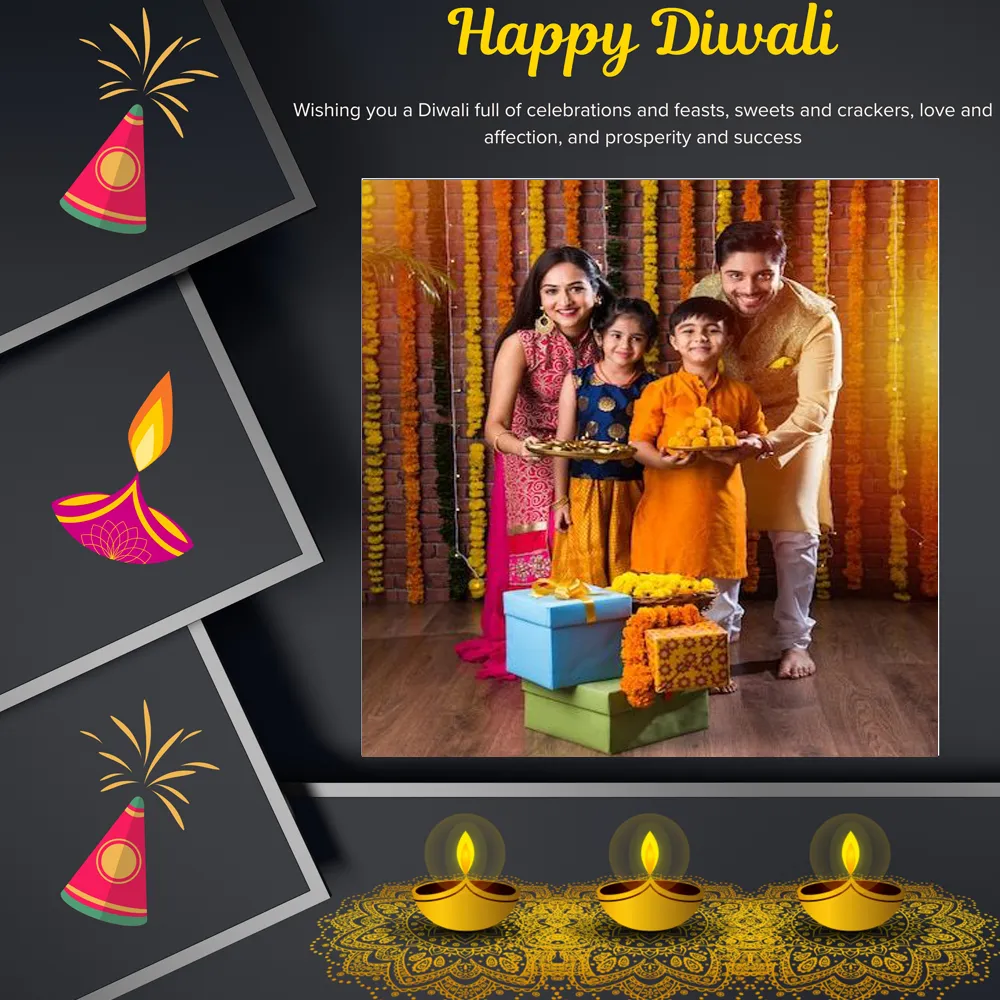 As we approach the joyous occasion of Diwali in 2023, the excitement to share warm wishes and greetings grows stronger. In this digital age, the trend of personalized greetings takes a festive leap with the happy Diwali 2023 greetings photo frame with picture edit online. This innovative tool blends the traditional essence of Diwali with the modern convenience of digital personalization, offering a unique way to convey festive greetings.
Diwali wishes 2023 greetings photo frame allows individuals to create custom greetings with ease. Because of its user-friendly design, anyone can utilize this web tool, regardless of technical proficiency. You may choose from a range of Diwali-themed frames with eye-catching hues and classic designs like lanterns, diyas, and rangolis. You can then add your own images and messages to these frames to make them uniquely yours.
Read More : happy diwali 2023 images with family photo frame download
This online editing tool's capacity to personalize Diwali wishes is what makes it so alluring. You can effortlessly incorporate your family portrait that perfectly embodies your Diwali celebration or your celebratory selfie into a Diwali-themed frame to create a unique message that is ready to be sent to loved ones.
This instrument is an excellent means of bridging gaps, even beyond its aesthetic appeal. A personalized Diwali message can foster a sense of community and shared celebration in a world where families and friends may live far apart. Sharing a little of your Diwali with people, wherever they may be, is a digital approach to preserve customs.
In conclusion, the happy Diwali 2023 greetings with photo frame offers a delightful and convenient way to create personalized Diwali greetings. It's a perfect blend of tradition and technology, enabling you to share your festive spirit in a uniquely personal way.
Related Diwali Photo Frame