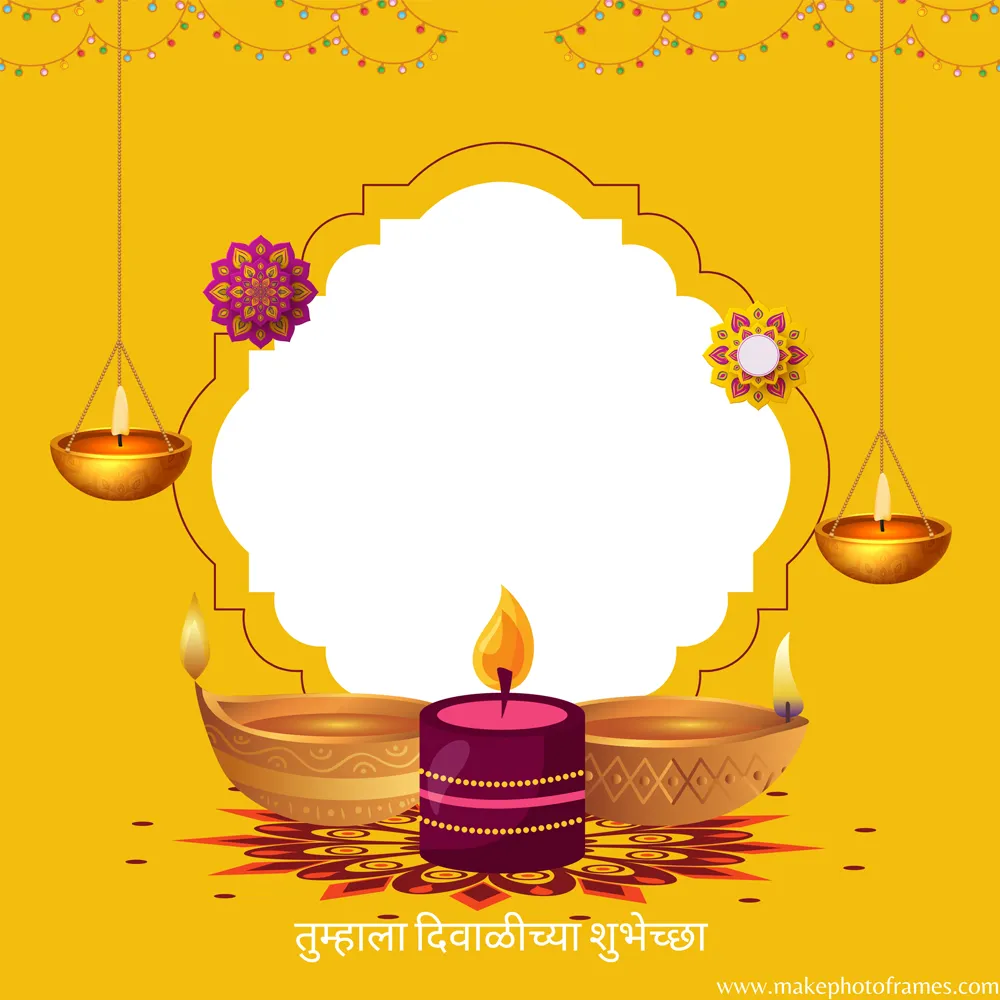 India celebrates Diwali, the festival of lights, in a variety of ways, with each region having its own special manner of marking the occasion. Diwali is a season of customary passion and cultural richness for Marathi-speaking communities. Enhancing these celebrations are Happy Diwali 2023 wishes images in Marathi with photo frame editing, a modern twist that allows people to express their festive greetings in a more personalized manner.
The concept of Happy Diwali 2023 Wishes In Marathi Download free with photo frame editing is not just about adding a festive touch to photographs; it's about connecting with one's cultural roots. These photo frames are designed with traditional Marathi motifs, such as rangolis, diyas, and Marathi script, reflecting the essence of Diwali as celebrated in Maharashtra.
The frames offer a delightful blend of color, festivity, and cultural identity, making them an ideal choice for those wishing to convey Diwali greetings in a more personalized and culturally resonant way. These digital frames also provide an opportunity for Marathi-speaking individuals to connect with their heritage.
Read More : 2023 Shubh Diwali Make Name With Photo Frame Editor Online
By incorporating Diwali greetings in Marathi, these frames become a medium of cultural expression, especially for those living away from their homeland. They serve as a reminder of the rich traditions and linguistic beauty of the Marathi culture.
Furthermore, the ease of editing and customizing these frames online makes them accessible to everyone, regardless of their location or technical skills. People can easily upload their family photos, select a frame that resonates with them, and add their Diwali greetings in Marathi.
The result is a beautiful, customized image that can be shared digitally with family and friends, or even printed as a keepsake to cherish the memories of the festival. In conclusion, as Diwali approaches, the trend of creating and sharing 2023 happy diwali padwa marathi images with photo frame editing is a beautiful way to keep cultural traditions alive in the digital age.
These frames not only enhance the festive spirit but also help in preserving and promoting the Marathi culture and language in a modern, digital format.
Related Diwali Photo Frame