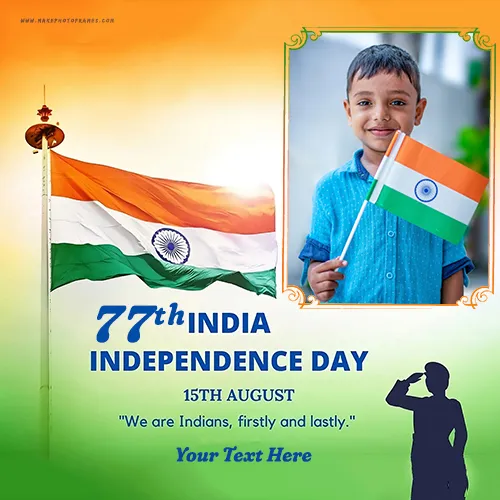 India's path to independence has been marked by unmatched bravery, selflessness, and cohesion. In addition to a feeling of patriotism as the nation prepares to mark its 77th Independence Day on August 15, there is a desire to appreciate and uniquely personalize these moments of national pride.

Stepping into this sentiment, MakePhotoFrames is proud to unveil its 77th Independence Day 15 August photo frame editor. This feature-rich platform is crafted to let users seamlessly blend their cherished memories with the iconic symbols of Independence Day. Our editor ensures that each frame is not just a static image but a dynamic canvas echoing the spirit of India's freedom struggle and the promise of its future.

Imagine a frame adorned with the tricolor, flying kites, and emblematic monuments. Now, envisage your cherished moments encapsulated within this frame, further customized with details and designs of your choice. With the 77th Independence Day 15 August photo frame editor, every image is transformed into a keepsake, a personalized memoir of India's monumental day.

Sharing these frames becomes more than a digital gesture. It becomes an act of unity, reminiscing shared histories and dreaming collective dreams for the future. With MakePhotoFrames, each frame is a tribute, each edited detail a mark of respect, and every shared image a celebration of 77 years of independence.

This 15th August, let your photos echo the heartbeat of a nation. Dive into our editor, craft your tribute, and let India's spirit shine brightly in every frame. Celebrate with us!