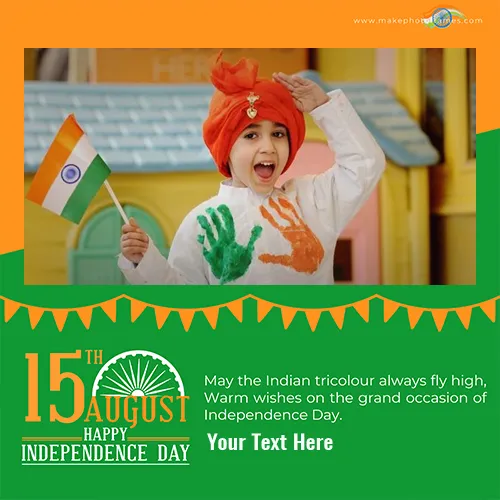 India, a land of diversity, unity, and rich history, gears up to celebrate its 77th Independence Day this 15th of August. Every corner of this vast nation will be adorned with the tricolor, symbolizing sacrifice, peace, and prosperity. While the flag hoisting ceremonies, patriotic songs, and vibrant parades ignite a sense of national pride, the digital world offers its own unique avenues for celebration.

Enter MakePhotoFrames, a platform that seamlessly combines tradition with technology. This year, as you pay homage to the brave souls and the journey of our nation, do it with a personal touch. With our specialized indian flag 15th August 77th Independence Day photo frame with name feature, you can craft a bespoke visual tribute. Whether you wish to encapsulate the fluttering Indian flag or the spirited parades, every image can be framed with distinctiveness and a touch of individuality.

Imagine the Indian flag, soaring high, and within its embrace, a frame capturing your cherished memories, overlaid with your name. It's not just an image; it's a statement of your bond with the nation. Indian flag 15th August 76th Independence Day photo frame with name embodies this sentiment, allowing every Indian to wear their patriotism on their sleeve, or in this case, their profiles.

So, as India steps into its 77th year of freedom, let's reshape the way we express our national pride. Dive into MakePhotoFrames and let the tricolor reflect not just the nation's spirit, but yours too. Celebrate with heart, celebrate with personalization.