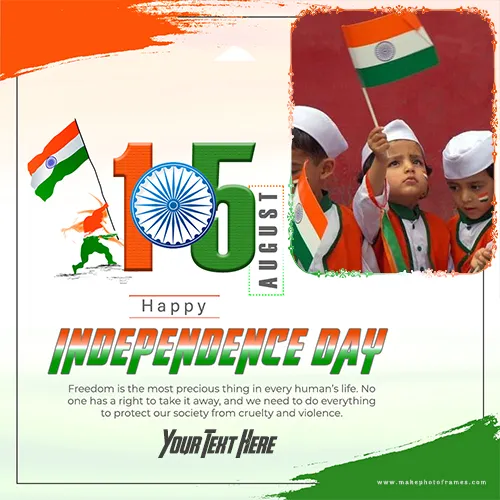 The spirit of Independence Day resonates deeply with every Indian, marking a day when the country embarked on a journey of self-governance, hope, and relentless ambition. As we approach Independence Day 2023, it's more than just a commemoration; it's an emotion, a time of reflection, and an opportunity to express our patriotism.

With the digital age, the way we celebrate and express our pride has transformed. This year, let your celebrations take a personal and digital twist with MakePhotoFrames. Our platform offers a unique experience where you can curate 15 August Independence Day images,capturing the essence of the tricolour, iconic monuments, and the brave souls that paved our nation's path.

But what truly makes these images special is the personal touch you can add. With the " Independence Day Images 2023 India Photo Frame with Name Editing" feature, not only can you choose a frame that resonates with your sentiment, but you can also imprint your name on it. It's your own badge of honour, your signature tribute to the nation.

Incorporating personal elements into national celebrations bridges the vastness of the country, making every individual's pride tangible. By using MakePhotoFrames, you're not just sharing another generic image; you're sharing a part of your heart, your tribute.

So, as the skies light up in saffron, white, and green this 15th of August, ensure your digital space mirrors your patriotism. Dive into MakePhotoFrames and craft your unique salute to India. Jai Hind!