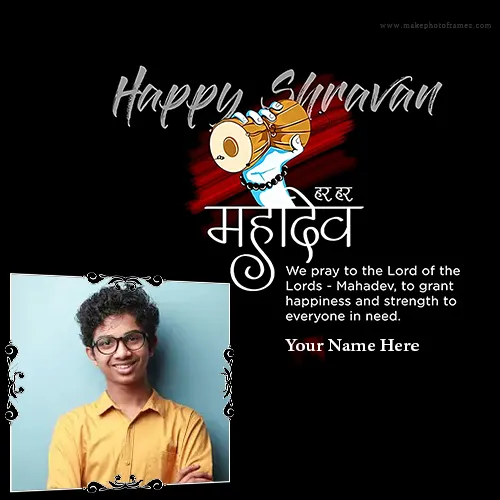 The sacred month of Shravan or Sawan Maas holds deep spiritual significance, especially for devotees of Lord Shiva. As we immerse ourselves in devotion during this time, Makephotoframes is thrilled to offer you an opportunity to capture the divine spirit with our exclusive Happy Shravan Maas Lord Shiva frame with name.

Our collection of frames is carefully designed to embody the divine aura of Lord Shiva. They serve as a perfect medium to express your devotion, reminding us of the benevolent and powerful deity we honor during Shravan Maas.

What makes our Lord Shiva frames truly unique is the personalization feature. You can add your name to these frames, creating a special spiritual keepsake for this auspicious month. Accessing these personalized frames is a simple process. Just visit our website, select from the range of Lord Shiva frames, add your name, and proceed to download.

Embrace the sacred spirit of Shravan Maas and spread the divine blessings with your personalized Happy Shravan Maas Lord Shiva frame. May Lord Shiva's blessings be upon you always. Om Namah Shivay!