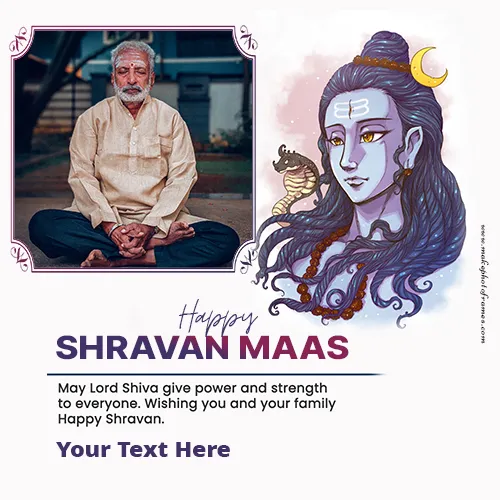 Makephotoframes is thrilled to offer you a free happy Shravan Maas frame with your photo. Embrace the auspiciousness of Shravan Maas and create a beautiful memory with our specially designed frames. With our user-friendly interface, you can easily upload your photo and customize it with our free Shravan Maas frames, adding a touch of spirituality and joy to your picture.

Our free happy Shravan Maas frames are meticulously crafted to reflect the essence of this sacred month. Simply choose the desired Shravan Maas frame, upload your photo, and let our tools work their magic. Customize your photo with the frame and witness the transformation as it beautifully blends with the spirituality of Shravan Maas.

Whether you want to share your framed photo on social media, send it to friends and family, or print it out as a physical memento, our free Shravan Maas frames allow you to create a cherished memory that captures the essence of this auspicious period.

Celebrate Shravan Maas with Makephotoframes and add a divine touch to your photo. Embrace the blessings and spirituality of this sacred month by customizing your picture with our free happy Shravan Maas frames.