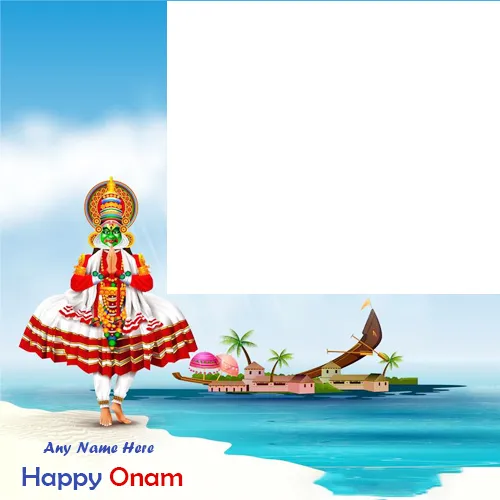 Onam, Kerala's grand festival, signifies a time of unity, prosperity, and cultural celebration. The traditions, from the lavish Sadya feast to the iconic Pookalam floral designs, have been passed down for generations. In this digital age, another exciting way to celebrate is with Happy Onam 2023 Photo Frame Online Editing.

Makephotoframes brings to you a contemporary way to cherish these moments. How about capturing the essence of Onam with a picture, beautifully encased in a themed frame? With Happy Onam 2023 Photo Frame with name Online Editing, you can take your favorite Onam moments and enhance them with artistic frames, bringing the spirit of the festival to every image you share.

Every picture tells a story, and with Onam, there are countless tales to tell. Whether it's the fun-filled Vallam Kali boat races, the graceful Thiruvathira dance, or the intricate Pookalam designs, every memory can find its perfect frame with Happy Onam 2023 Photo Frame Online Editing.

With Makephotoframes, you don't just preserve memories; you accentuate them, adding a touch of Onam's vibrancy. Dive into a range of customizable photo frames tailored for Onam, ensuring your memories from this festive season are captured in the best light.

So, as you prepare for Onam 2023, don't just click photos. Enhance, personalize, and share them with a touch of tradition and creativity, encapsulating the joyous moments in beautifully crafted frames.