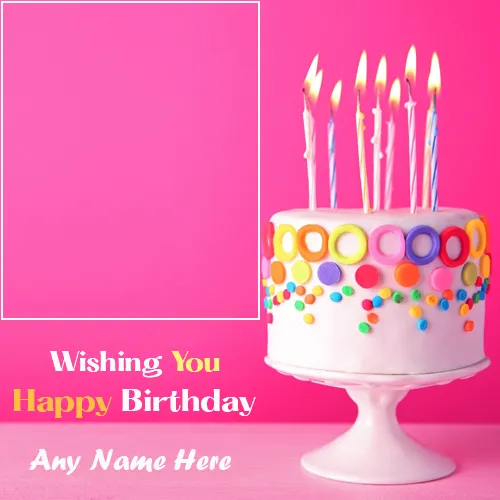 Birthdays are radiant, much like the glow of candles on a cake, illuminating the years gone by and the promises of the future. Adding a personal touch to these glowing celebrations can make them even more special.

That's where the happy birthday candle cake with name and photo frame edit comes into play, promising to make every birthday wish shine a little brighter. The flicker of a candle, with its warm and gentle light, signifies the hopes, dreams, and wishes we hold for our loved ones on their special day.

Combining this with a personalized name and photo brings forth a beautiful amalgamation of tradition and customization. Makephotoframes understands the depth of such moments and has pioneered a way to make them more intimate. By using our happy birthday candle cake with name and photo frame edit feature, you can infuse the heartfelt wishes with cherished memories, making them truly unforgettable.

In an era where birthday wishes are often fleeting, stand out with a gesture that captures the essence of the person celebrating.

The candles birthday cake with name and photo frame edit doesn't just convey wishes, but it encapsulates memories, moments, and milestones. It's a celebration of life, love, and all the beautiful moments in between. Choose Makephotoframes to illuminate every birthday with a personalized touch. Let the light of the candles reflect the glow of cherished memories and the warmth of heartfelt wishes, creating a celebration that truly sparkles.
Related Birthday Cake Frame