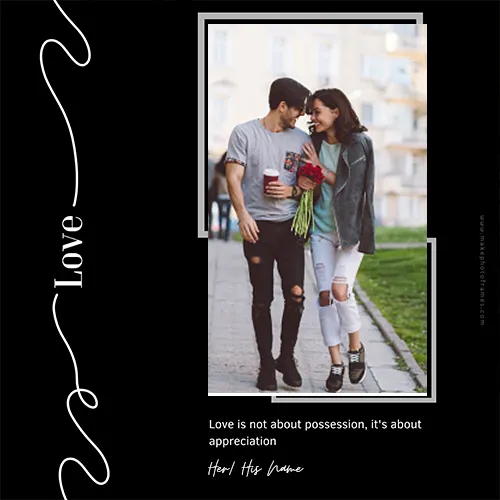 Creating an "Love" photo frame with custom text online is a wonderful way to infuse your special memories with heartfelt messages. With the convenience of various online tools and platforms, you can easily design a personalized photo frame that adds an extra layer of meaning to your cherished photographs. Here's a step-by-step guide on how to create an "Love" photo frame with custom text online:

Choose a reliable online photo editing platform or website that offers customizable photo frame templates. Look for options that allow you to add and edit text.

Select the desired photo frame template that resonates with the style and mood you want to convey. Consider the colors, shapes, and design elements that complement your photo.

Upload your chosen photo to the online editor and position it within the frame. Resize, crop, or adjust the photo as needed to fit perfectly.

Add custom text to the photo frame. Write a heartfelt "Love" message or include the names of you and your loved one. Choose a font style, size, and color that enhance the overall design and reflect your emotions.

Experiment with text placement and orientation to find the most visually appealing arrangement. You can position the text within the frame or around its edges, depending on the template and your preferences.

Explore additional customization options such as adding decorative elements, clip arts, or stickers that enhance the sentiment of love and affection.

Preview the final design and make any necessary adjustments to ensure it looks just the way you envision it.

Once satisfied with the design, save and download the customized "Love" photo frame in a high-resolution format. You can then print it out or share it digitally to surprise and delight your loved one.

Creating an "Love" photo frame with custom text online allows you to personalize your precious moments, making them even more meaningful and memorable. Unleash your creativity and design a unique photo frame that captures the essence of your love.


Related love photo frames