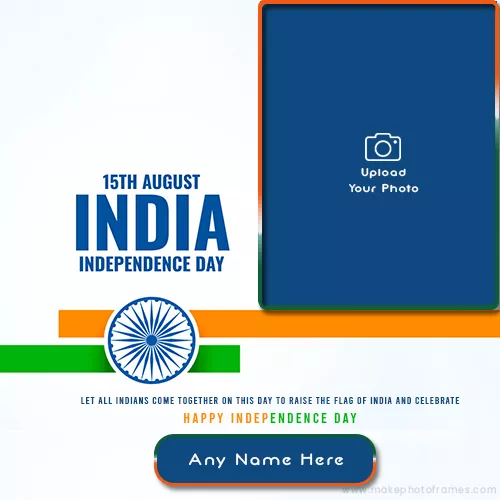 15th August 1947 is the day when India finally achieved independence from the British empire and rule of over 150 years. This day is etched to the heart of every Indian and to celebrate this day, you can customize an amazing 15 august Ki photo frame online editing at our www.makephotoframes.com for free.

Editing and customizing a beautiful 15 august photo frame online editing is as easy as it gets, you simply have to choose an Independence day image background of your choice with a frame and simply add your name in the given text box.

Once you are done with the above steps, your final 15 august Indian flag photo frame editor Online will be generated once you finalize the image. You can download your customized wish on your device and send it to your close and loved ones to make their day special.

Celebrate India's Independence Day with a touch of digital creativity using 15 August Photo Frame Online Editing. This unique platform allows patriots to infuse the spirit of freedom into their photos. Whether you're showcasing your national pride or sharing festive moments with loved ones, 15 August Photo Frame Online Editing ensures each memory stands out with bespoke designs.

The frames incorporate tricolor themes, iconic symbols, and artistic interpretations of India's glorious journey. Enhance your photos, encapsulate the fervor of the day, and let every picture you share resonate with the undying spirit of August 15th.