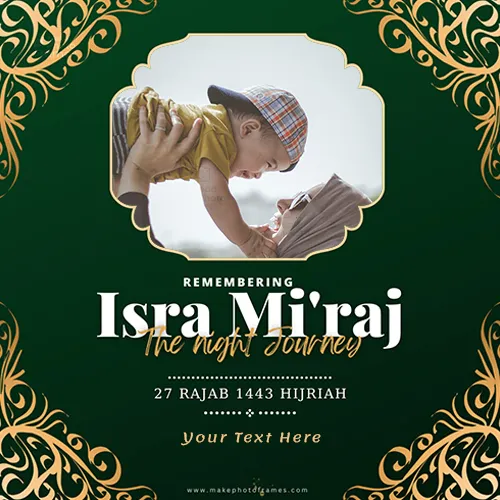 Shab-e-meraj a Muslim festival, is about to come. For the celebration of Shab-e-meraj, we have something on our site which can help you to save time and get a new vibe. So, the option name is Shab-e-Meraj with Personalized Cards and Name download.

In this option, you can see a collection of cards, greetings, frames, and many more things regarding Shab-e-meraj. Also this time personalized cards option also available to show Customer identity. Also, this option helps you to easily identify which person you want to give this card to.

Shab-e-Meraj with Personalized cards and name and picture also consists of a name feature to write down your name as a card giver or to just show your name.

This is the knowledge and ideas that you have to know about this option. For more information and updates you have to visit our site and Check out this option.

Just you have to do two-three steps. First, visit our Make Photo Frames and search Shab-e-Meraj with Personalized Cards and Name. After searching this you will get the manual on our site which leads you to further step. We hope that this option will help to celebrate this Shab-e-meraj and hope you like it the most.
Related Ramadan Mubarak Frames