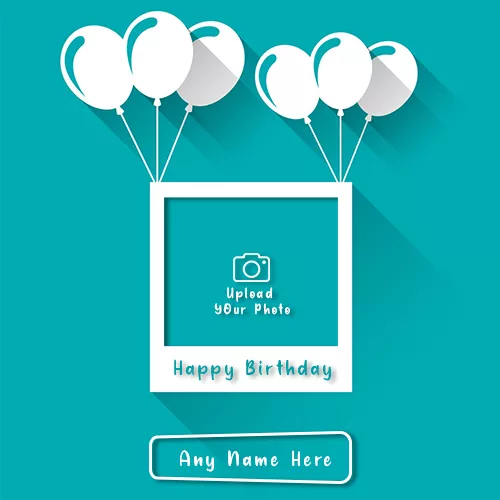 Personalized photo birthday card with name is here to solve all your doubts regarding the celebration of the Happy birthday of your friends and your family members. We are not saying that you won't find any place like us.But we are very certain in saying that you will not find a better place to wish happy birthday than a Personalized photo birthday wishes greeting card with your name.

Addition to this we have the virtual card feature which will make sure that you can create one online free greeting card for your close ones according to your choice from the birthday card with name & photo edit. Of course, you can easily write or add the name of the birthday boy or girl on the images or on the birth cards created by you.

The name feature will help you in writing the names from the personalised birthday wishes card with name and photo without paying anything. In the realm of birthday greetings, a personal touch can elevate a simple wish into a cherished memory. The Personalized Photo Birthday Card With Name bridges the gap between standard greetings and heartfelt memories.

It's not just about the words but the emotions encapsulated within. Taking the lead in this innovative approach to birthday sentiments is Makephotoframes. Our platform's Personalized Photo Birthday Card With Name edit feature ensures that every card you send becomes a keepsake.

Begin by selecting a card design that resonates with your feelings. Infuse it with a memorable photo, creating a visual connection. And for the ultimate personal touch, embed the celebrant's name, ensuring your wishes speak directly to their heart.

With Makephotoframes, your birthday wishes are more than mere words; they're a blend of memories, emotions, and unique identity. Step into a world where every birthday card tells a story, one that's as unique as the person receiving it. Celebrate with heart, celebrate with us!
Related Birthday Photo Frames