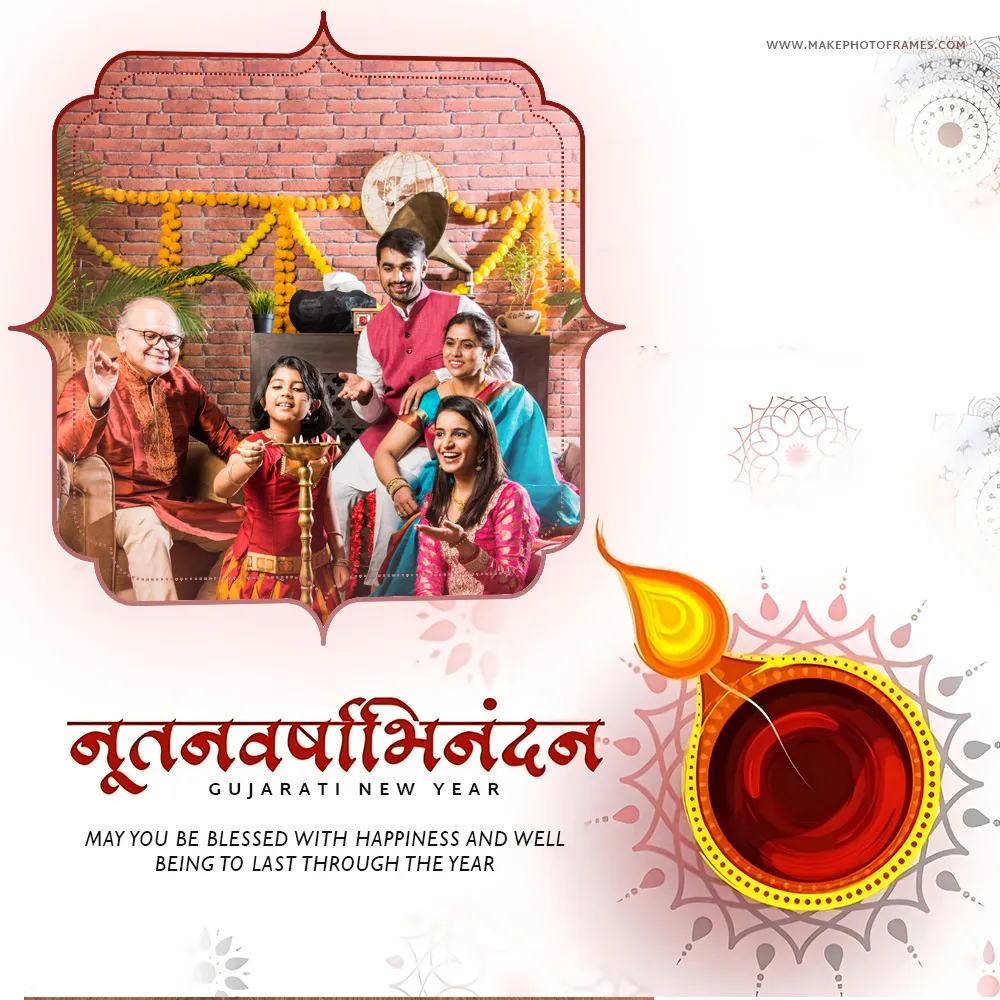 During vibrant festivities and the joyous chorus of Nutan Varshabhinandan, personalizing greetings add extraordinary warmth to the celebrations. The digital era brings to your fingertips the ability to imbue your wishes with a blend of tradition and personal touch. Engage in the delightful activity of Nutan Varshabhinandan Happy Gujarati New Year with photo frame editing online to convey your warmest and most personalized wishes for the Gujarati New Year.
The art of crafting a personalized greeting is made effortless with the Nutan Varshabhinandan Happy Gujarati New Year wishes photo frame. This lets you encapsulate the New Year's essence and your affection for your loved ones in a beautiful photo frame. The intuitive online tools offer many options to choose from, ensuring that your New Year wishes are not just sent but felt and remembered.
Read More : Create Your Own Happy Nutan Varshabhinandan In Gujarati With Photo
With photo frame editing online, you can select a picture with a dear memory and frame it with festive designs that resonate with Nutan Varshabhinandan's spirit. The customization options are boundless, be it intricate traditional patterns, vibrant colours symbolic of Gujarati culture, or more contemporary designs.
This digital creation, steeped in personal significance, will adorn the walls of your loved ones' homes and the corners of their hearts.In this era where digital connections bridge physical distances, sending a photo frame edited with love and care embodies the true sentiment of Nutan Varshabhinandan.
It's more than just a gesture; it's a manifestation of the love and bonds we cherish, enhanced by the personal touch only you can provide. So this year, celebrate the new beginnings and the continuation of age-old traditions by creating something as unique as the festival itself.
Related Nutan Varshabhinandan