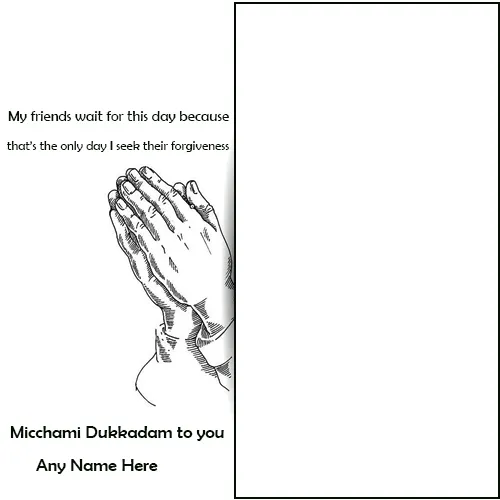 Michhami Dukkadam is an age-old Jain phrase that seeks forgiveness for any harm or hurt caused knowingly or unknowingly. As the essence of this sentiment is about renewal, connection, and reflection, what better way to cherish and remember these moments than with a personalized Michhami Dukkadam photo frame with name?
The tradition of Michhami Dukkadam signifies the profound humility of the human spirit. While the phrase is recited and shared with family and friends, a personalized touch can make it even more special. This is where Makephotoframes steps in to elevate your experience.
Our bespoke Michhami Dukkadam photo frame with name download is meticulously designed to not only encapsulate the serenity and significance of the occasion but also to create a keepsake that resonates with personal memories.
Read More : Download Micchami Dukkadam wishes with name Editing Online
By adding a name to the frame, you're giving a unique identity to your wishes, making your expressions of remorse and forgiveness even more personal. Imagine gifting a loved one a frame with their name, holding a cherished photograph of a shared moment. It goes beyond the mere act of seeking forgiveness; it becomes a tangible memento of love, care, and shared history.
So, this year, as you utter the sacred words of Michhami Dukkadam, let Makephotoframes assist you in immortalizing those feelings with a personalized touch. Embrace the tradition with a touch of modernity, only with our exclusive Michhami Dukkadam photo frame with name editing.
Related Special Day Frames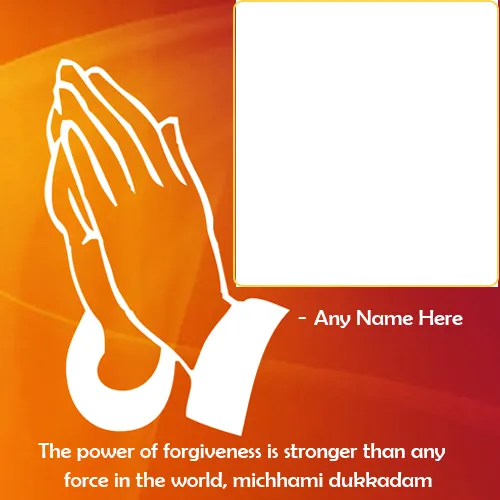 Elevate your expressions of remorse and reflection with jain Michhami Dukkadam images card with name and photo. Michhami Dukkadam is a revered phrase in Jainism, encapsulating the essence of seeking ...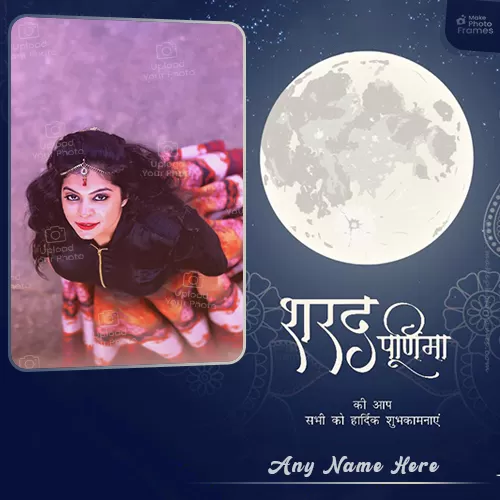 On the Amazing day of Sharad Purnima celebrate with your friends and family with your create happy Sharad Purnima greetings card. Latest and amazing photos and quotes related to Sharad Purnima to make ...