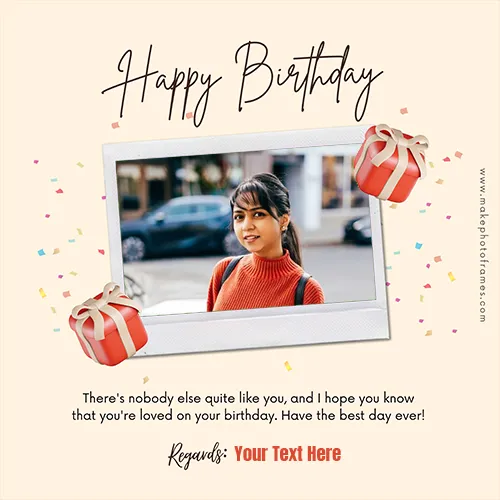 Celebrating a loved one's birthday is a special occasion, and what better way to make it even more memorable than by creating your own personalized birthday card with a photo? With our user-friendly online tool, you can now design and customize your very own birthday card for free! Gone are the days of generic store-bought cards. Now, you have the freedom to add a personal touch by including a cherished photo of the birthday celebrant. It could be a happy moment you shared together, a favorite memory, or simply a snapshot that brings a smile to their face.

Our intuitive interface allows you to upload your chosen photo and easily position it within the card. You can also enhance the image with filters or add text and stickers to make it truly unique. Let your creativity shine as you design a card that perfectly reflects the personality and interests of the birthday boy or girl.

Once you're satisfied with your creation, simply download the card and print it at home or send it electronically via email or social media. It's a convenient and heartfelt way to show your love and appreciation on their special day.Making your own birthday card with a photo is a thoughtful gesture that will surely touch the heart of the recipient.

Start designing your personalized birthday card today and make their day truly unforgettable.Celebrate in style and make your loved ones feel extra special with a personalized birthday card made with love and creativity. Start creating your own birthday card with a photo for free and let the smiles begin!