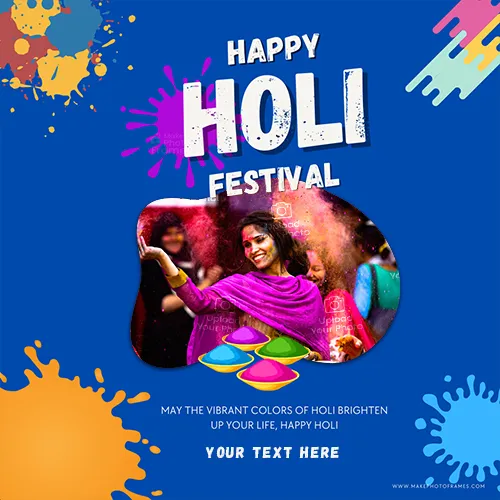 Holi, the festival of colors, is celebrated with great enthusiasm in India and around the world. People throw colors, dance, and celebrate with their loved ones. It is a time to forget all grudges and enjoy the spirit of the festival.

To add to the excitement and joy of the festival, we have a special collection of Holi festival photo frames that you can download and use to create personalized greetings. With our name editing feature, you can add your name or the name of your loved one to the photo frame to make it more special.

We offer a variety of photo frames that are designed to capture the essence of the festival. Whether you want a simple frame or an elaborate one, we have something for everyone. All our photo frames are easy to download and can be used to create customized Holi greetings that you can share on social media or print and gift to your friends and family.

So, go ahead and download our Holi festival photo frames with name editing feature and add a touch of personalization to your celebrations. Let the festival of colors bring you joy, happiness, and new beginnings. Happy Holi!