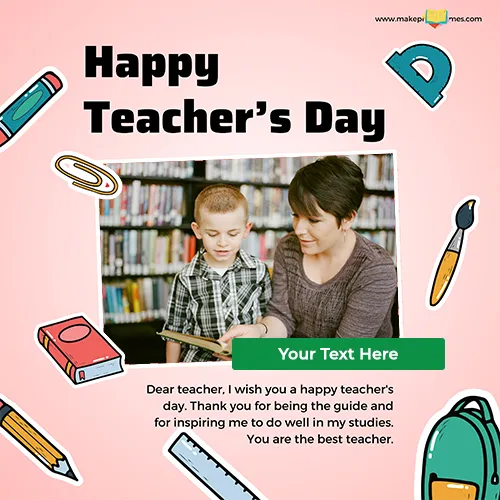 In the era of digitalization, expressing our feelings and sentiments has taken a creative turn. As we gear up to celebrate Teachers' Day 2023, it's essential to find unique ways to convey our appreciation to those who have illuminated our paths with wisdom and knowledge. The traditional methods of expressing gratitude are evergreen, but why not add a modern twist this year?

Enter the Happy Teachers' Day 2023 photo frame download online editing. This innovative feature allows you to craft a personalized tribute for your beloved teachers. Imagine the joy and surprise on their faces when they receive a beautifully designed photo frame, tailored just for them, with a cherished memory captured inside.

Makephotoframes, always at the forefront of celebrations, proudly introduces its Happy Teachers' Day 2023 photo frame online editing tool. Making a custom photo frame has never been simpler thanks to an intuitive user interface and a wide range of design possibilities.

You just need to upload a special photo, select the frame you want, and make any necessary modifications, and you're done! The result? A heartwarming keepsake that speaks louder than words. Leveraging the Happy Teachers' Day 2023 photo frame online editing online feature is not merely about gifting a frame; it's about encapsulating moments, memories, and emotions.

In an age where personalization is key, such gestures echo the respect, love, and admiration we hold for our educators. So, this Teachers' Day, let's make our wishes visually appealing and sentimentally profound, honoring those who have shaped our lives in countless ways.
Related Happy Teacher's Day