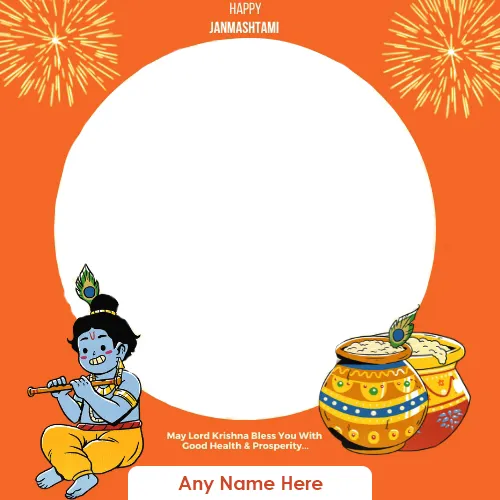 Happy Krishna Janmashtami 2023 photo frame online is the perfect fusion of spirituality and digital innovation, allowing devotees to encapsulate their cherished memories of this revered festival. Janmashtami, marking the divine birth of Lord Krishna, fills hearts with joy, streets with celebrations, and homes with the melodious chants.
In these moments of sheer devotion and merriment, capturing memories becomes an essence of the celebration. In today's digital age, where online expressions carry profound sentiments, the Happy Krishna Janmashtami 2023 photo frame online offers a unique platform to embed these precious moments into frames that echo the festival's spiritual significance.
It's not just about preserving a photo; it's about surrounding it with the aura of Lord Krishna, blending personal memories with age-old traditions. Makephotoframes, with its commitment to enhancing your festive experiences, presents an exclusive collection designed with precision, love, and devotion.
Our Happy Krishna Janmashtami 2023 photo frame with name online ensures that every memory you capture is framed with elements that resonate with the grandeur and divinity of Janmashtami. As the tales of young Krishna's playful antics, his mesmerizing flute, and his profound wisdom fill the air, let your memories be encased in frames that mirror the same magic and mystique.
Dive into the world of Makephotoframes and let your Janmashtami memories shine brightly in the digital realm. With our Happy Krishna Janmashtami 2023 photo frame online, every click, every moment, becomes a timeless testament to your devotion and celebrations.
Related Krishna Janmashtami Photos