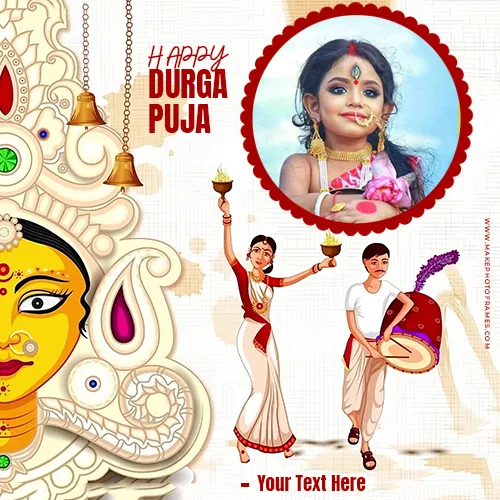 Durga Puja, a festival that paints cities and towns with vibrant colors, resonant drums, and divine chants, is much more than just a celebration. It's an emotion, a gathering of souls, and a time for reflection and jubilation. As 2023 approaches with its festive promises, adding a touch of personalization to your memories becomes even more significant.
Enter the Happy Durga Puja 2023 photo frame with name editor online, the perfect tool to encapsulate those precious moments. Makephotoframes, understanding the ever-evolving needs of the digital age, presents to you this innovative platform.
The Happy Durga Puja 2023 photo frame editor online allows you to not only select and customize frames befitting the grandeur of the festival but also embed your cherished photos within. The result? A tailor-made memory of Durga Puja that stands as a testament to your celebrations and experiences.
Read More: Navratri Durga Puja 2023 Festival Photo Frame Editor Online
While traditions remain close to our hearts, innovations like the Happy Durga Puja 2023 photo frame editor online offer a bridge, melding the conventional with the contemporary. Imagine the beauty of a traditional Durga idol or a dhunuchi dance, all framed with designs that echo your sentiments, and bearing photographs that capture your personal moments.
With Our, let the essence of Durga Puja transcend beyond the physical festivities. Embrace the festival with not just your presence, but also with personalized memories, crafted seamlessly with our online editor. After all, festivals are about memories, and what better way to immortalize them than with a touch of personal flair?
Related Navratri Photo Frame