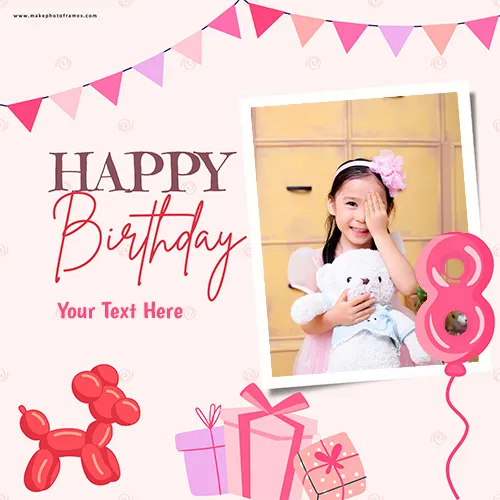 Celebrate the joyous occasion of a child's 8th birthday in an unforgettable way with Make Photo Frames. Our latest offering is a customizable Happy 8th Birthday Wishes Photo Frame with Name that adds a personal touch to your birthday greetings, making them uniquely heartwarming and memorable.

Turning eight is a milestone! It's a magical age where children's personalities shine, where their dreams are as vast as the sky, and their curious minds are ready to explore the world. Acknowledging this extraordinary year is important, and what better way than with our customizable photo frames?

At Make Photo Frames, we believe that each birthday should be celebrated in a distinct and special way. That's why we provide a variety of colorful and vibrant 8th birthday photo frames that capture the fun and joy of being eight. But the magic doesn't stop there! You can personalize these frames with the birthday child's name and their beaming photo, making them feel extra special.

To create your Happy 8th Birthday Wishes Photo Frame with Name, simply choose your favorite design from our selection, upload the celebrant's photo, and enter their name. With a few easy clicks, you will have a beautifully crafted birthday greeting ready to share with the birthday boy or girl.

Sharing these personalized photo frames isn't just a way to wish 'Happy Birthday'. It's an opportunity to celebrate the unique charm of the child, to show them how much they are loved and valued, and to preserve these golden moments for years to come.

Cherish the joys of turning eight and make this occasion unforgettable. Let's capture the happiness, dreams, and endless possibilities of being eight with our Happy 8th Birthday Wishes Photo Frames with Name editing. Begin creating and sharing the joy, only at Make Photo Frames.