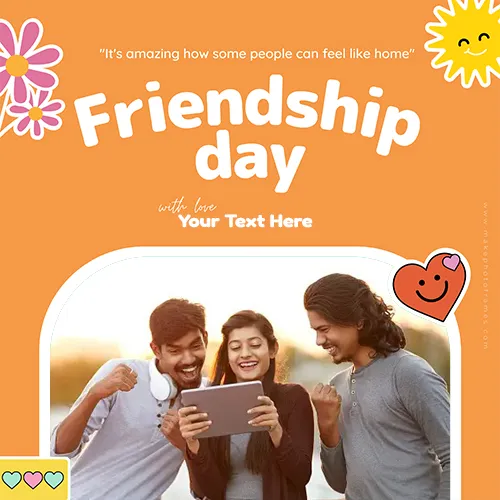 Looking for a hassle-free way to create beautiful Friendship Day photo frames? Look no further than Makephotoframes, your ultimate photo frame maker. With our easy-to-use platform and a wide range of customization options, you can design personalized frames that perfectly capture the spirit of friendship.

At Makephotoframes, we believe that every friendship is unique and deserves to be celebrated in a special way. Our Friendship day photo frame maker empowers you to unleash your creativity and design stunning frames that reflect the bond you share with your friends.Add your favorite prints, choose from a variety of themes and layouts, and do not forget to include our imprinting name, Makephotoframes, to make your frames truly memorable.

Whether you want to produce frames for your stylish friend, a group of musketeers, or a collage of cherished recollections, our print Friendship day frame maker offers endless possibilities. . The intuitive interface makes it easy for anyone, indeed those with no design experience, to produce professional- looking frames.

Once you're satisfied with your Friendship Day photo frames, simply download them and share them with your friends through social media platforms or print them out as tangible keepsakes. Let your friends know how much they mean to you by gifting them these personalized frames that encapsulate the beauty of your friendship.

This Friendship Day, unleash your creativity with Makephotoframes' photo frame maker. Celebrate friendship in style and create stunning frames that will be cherished for a lifetime.
Related Friendship Day Photo Frames