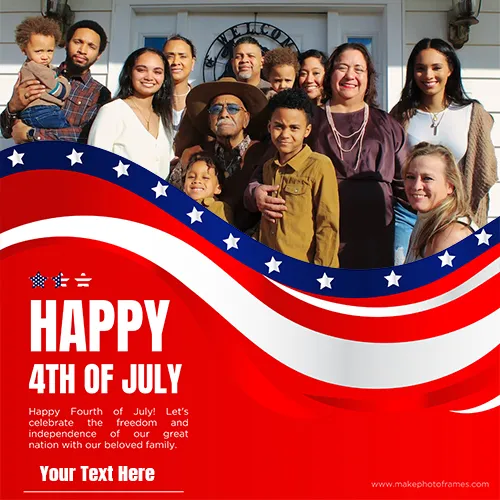 Makephotoframes.com offers you the perfect opportunity to create your own Independence Day 4th of July picture frames with our name customization feature. Embrace the patriotic spirit and celebrate this special occasion by personalizing your photos with our specially designed frames.

With our user-friendly interface, you can easily add your name to these frames, creating a unique and memorable keepsake that truly represents your love for your country.

Our custom Independence Day 4th of July picture frames allow you to showcase your pride and honor the significance of this historic day.

Whether you want to commemorate a special moment, express your patriotic sentiments, or create a thoughtful gift for a loved one, our frames with name customization are the perfect choice.

Our frames are meticulously crafted with attention to detail, ensuring that every design captures the essence of Independence Day. The name customization feature adds a personal touch to your photos, making them even more meaningful and unique.

Share your custom-framed photos on social media, use them as profile pictures, or print them out to display at home or in your workplace, proudly showcasing your patriotism.

With Makephotoframes, unleash your creativity and celebrate Independence Day like never before. Create your own Independence Day 4th of July picture frames with name customization, and let your love for your country shine through in every cherished memory.
Related 4th July Independence Day