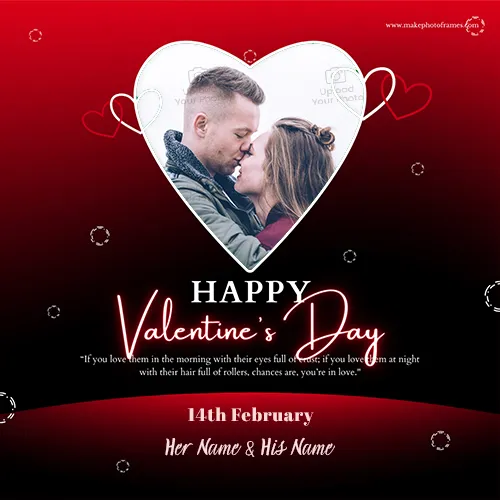 14 Feb Valentine's Day 2023 greeting card with a name and photo is an even more personal and unique version of a regular Valentine's Day greeting card. It typically features romantic imagery and decorations, but with the added personal touch of the person's name and a photo of the couple, or the person and the loved one printed or written on the card.

This type of card is a thoughtful and unique gift idea for a loved one, as it adds a personal touch and makes the card even more special. These cards can be easily customized online by adding the name, photo, and message of your choice.

This type of card is a great way to show your loved one how much you care about them and how much they mean to you. Valentine's Day is a special occasion to express your love and affection to your significant other. A photo frame with a heartfelt message or wish can make a great gift on this day. Some examples of Valentine's Day 2023 photo frame greeting cards with name and photos create are:
"Forever and always, my love for you will never fade."
"You light up my life, happy Valentine's Day."
"Together is our favorite place to be, happy Valentine's Day."
"Love is not about how many days, months, or years you have been together. Love is about how much you love each other every day"
"Every moment I spend with you is a moment I treasure, happy Valentine's Day."
You can also make your own wishes and messages, it's more personal and heartfelt.