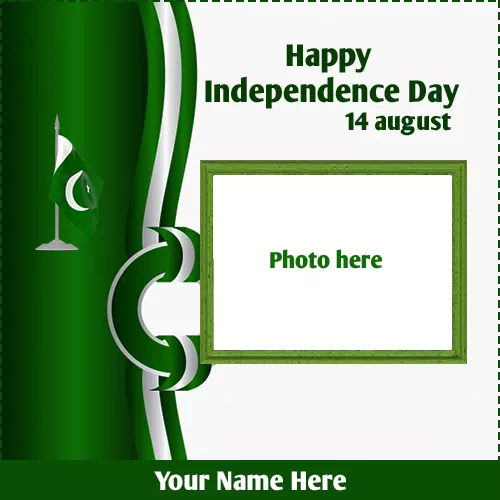 Finding to upcoming Muslim festival 14 August Pakistan flag photo frames with name? Make 14 August Pak flag photo frames with name and share with your friends, relatives members or your loved ones. Create to my name Pakistan flag profile photo picture editing online free. Pak flag photo frame and celebrate 14 August independence day of Pakistan Jashn E Azadi. Make your photo with independence day Pakistan flag with name editing online and share your lovely memories.

As Pakistan's Independence Day draws near, the green and white flag symbolizes the nation's pride, unity, and identity. Elevate your celebrations by personalizing your images with the 14 August Pak Flag Photo Frames With Name download for free download.

Incorporating the iconic flag into a photo frame and adding your name creates a heartfelt memento. Perfect for sharing on social media, these frames infuse individual memories with the collective celebrations of Independence Day. The 14 August Pak Flag profile picture Photo Frames With Name not only exhibit national pride but also emphasize the unique place every individual holds within the vast tapestry of Pakistan.

In a world that thrives on personal connections and digital expressions, celebrate this 14 August by intertwining your identity with the nation's emblem, making your memories both personal and patriotically profound.
Related Pakistan 14 august